Now on Tap: Alley 10 IPA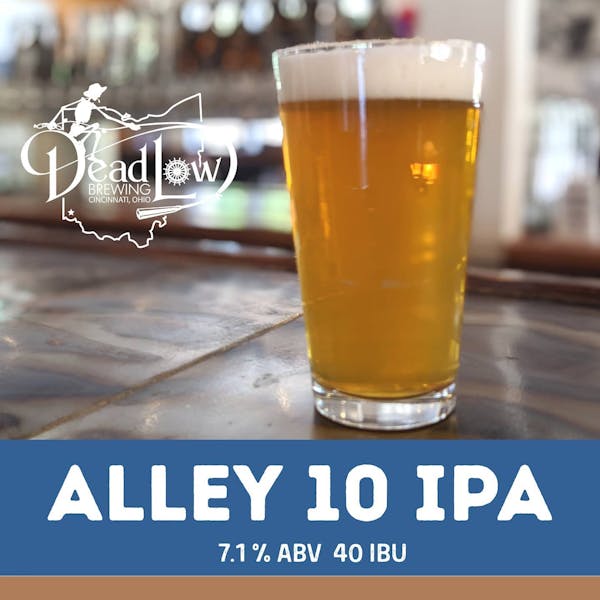 Alley 10 IPA
7.1 % ABV , 40 IBU
In the spirit of roadways we're fond of, Alley 10 is the small alley than runs behind Kellogg across the street from the brewery. And since we're right here in California, Grant brewed Alley 10 IPA, a West Coast IPA, in its honor.
This is a true-to-style West Coast IPA in which malt takes a step to the side and lets the tropical and citrus notes of the Cashmere hops take the spotlight.
IPA fans, come on in for a pint.
Why brew a beer in honor of an alley? Well, Grant just brewed a great Oktoberfest Marzen called Bavariaring, named after the roadway that circles the original Oktoberfest in Munich, Germany. So, when we began talking about other roadways important to beer brewing and beer drinking, Alley 10 was high on the list.
Many of us take Alley 10 (or the next one over, Linneman St.) when leaving Dead Low to avoid pulling out from Waits onto Kellogg. You can easily pull onto Alley 10 (or Linneman St.) from our parking lot and come out at the streetlight on Eldorado near our friends at Lebo's Bar & Grill.
Alley 10 helps a lot of us get to and from the brewery safer. So, we thought we should drink a beer in its honor.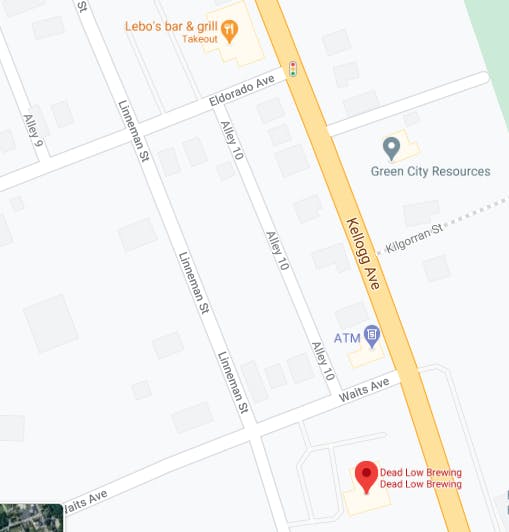 The little alley is getting a lot of attention lately from both Anderson Township and the City of Cincinnati. If you haven't heard, Anderson is spearheading an effort to totally reimagine and enhance the Kellogg Avenue entertainment district. The "Riverfront Gateway Project" spans from California through to both I-275 exits at Kellogg and New Richmond.
It's a huge project we're big supporters of. It will make it safer to walk, bike and drive from Dead Low Brewing, California Nature Preserve and Golf Course, Lebos and other businesses in California through to Coney Island / Sunlight Pool, to Riverbend Music Center, and Beltera Park Gaming. The project will make it much more walkable and will address the many traffic problems we face along Kellogg and the highway exit during events.
Our little alley is in the middle of the talks about where to finish the bike trail and manage traffic flow.
So, stop in for a pint of Alley 10 IPA to chat about it more.
Then, make sure your local politicians know you support the Gateway project. Cheers!
You can read more about it here: https://www.ohioriverfront-californiastudy.com/