Dead Low Brewing Begins Distribution for 1st Anniversary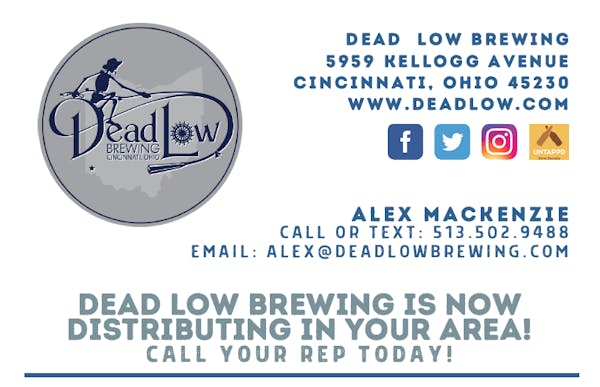 Dead Low Brewing celebrates its first anniversary by launching the distribution of its craft beer beyond the taproom.
Considering the challenges of launching a new business and facing a global pandemic during our first year of operations ­­— a year that significantly disrupted the brewing, dining and entertainment industries — we have a lot to celebrate.
During our celebration on Saturday 10.10/2020, our anniversary will be marked with a new beer launch, special food and drink pairings, bands all day, and special anniversary merchandise. Not only are we throwing an all-day celebration for our first year, we're GOING INTO DISTRIBUTION to celebrate!
During our first year, we chose to focus our efforts on creating an incredible taproom experience and brewing delicious, quality beer. With head brewer Grant Thompson and our first year under our belts, Dead Low's craft beer will now be available out in the community.
Keg distribution will cater to restaurants, bars and entertainment venues. Crowler cans are now available for purchase online for pickup in the taproom so that fans can enjoy a cold can of Dead Low beer at home.
Preorder for Crowler cans are now available online: https://www.toasttab.com/dead-low-brewing/v3#!/
For keg distribution at your venue, contact Alex MacKenzie at Alex@DeadLow.com