Cincinnati Nonprofit helps local battle-injured veteran heal from PTSD.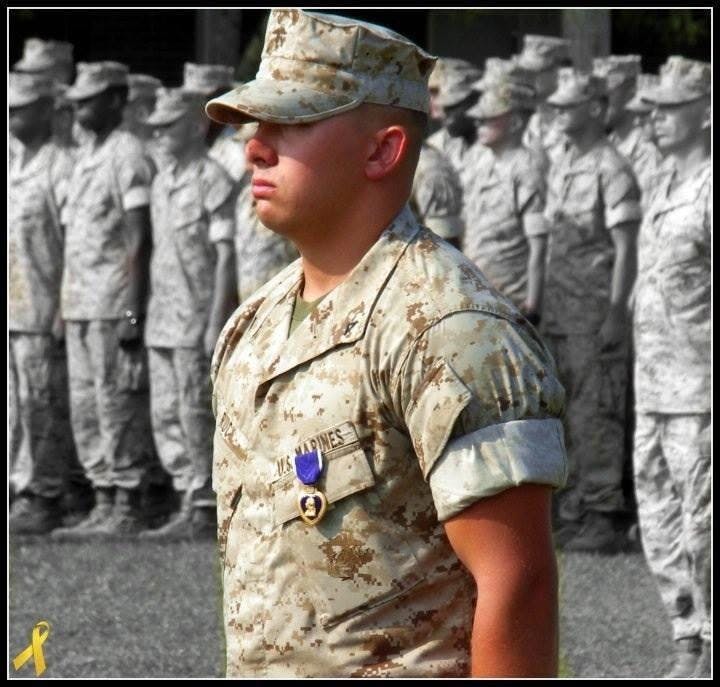 Cincinnati, Ohio — January 2021 — Hanoi's Lost Child and community partners raise funds in support of local Veteran Danny Ruck.
Each year, a local veteran support group, Hanoi's Lost Child Foundation (HLCF), has raised funds to provide one Cincinnati disabled combat veteran an innovative experience designed to help wounded warriors heal from PTSD. HLCF is partnering with local businesses, including Dead Low Brewing, Brink Helicopters, and The Rosselot Financial Group to sponsor a battle-injured Cincinnatian, Marine Corporal Danny Ruck.
Ruck was chosen from Veterans around the country to participate in the healing experience, called Helicopters for Heroes.
The annual event for wounded warriors includes a helicopter hunt, live music, food, fellowship, and fun for veterans and supporters. Dead Low Brewing is sending a volunteer ground crew to the event to assist in the weekend activities that honor and support wounded veterans, taking place in Ennis, Texas on February 26-28, 2021. You can help Raise a Buck for Ruck — all donations support the travel expenses for Ruck and the volunteer ground crew from Cincinnati.
Sergeant and K-9 Handler with the New Richmond Police Department, Jason Mallott, who served several Army combat tours in Iraq, is volunteering to coordinate flights at the Texas event. He explains, "This is generally the first time the combat veteran has been in a helicopter since being battle-injured and transported in a Medevac. We do this because it helps the individual deal with PTSD, transforming the negative event of his last ride in a helicopter into a positive, healing experience."
Ruck was injured while on assignment as an Infantry Assaultman with the 3rd Battalion, 8th Marines, Weapons Company, CAAT Platoon in Afghanistan in 2009, when his Humvee ran over a pressure plate improvised explosive device (IED).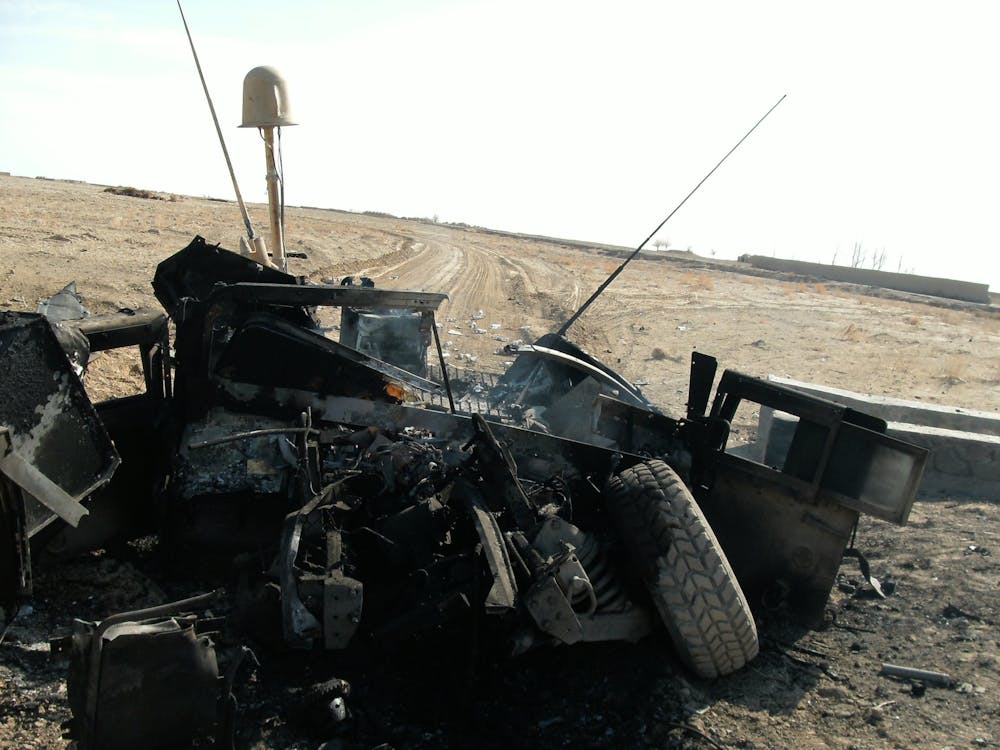 Upon regaining consciousness from the blast — which lifted the Humvee 10 feet into the air and into a nearby ditch — Ruck provided security for his squad while his Corpsman treated his fellow Marines. Once everyone made it to another vehicle, pressure dressings were applied to Ruck's legs and a tourniquet applied to his right arm. Following medical evacuation to a hospital where he received initial medical treatment for his injuries, Ruck was flown to Camp Bastion, a NATO base in Afghanistan, where he spent nearly three months receiving medical treatment and recovering. As a result of the blast, Danny was left with shrapnel in both legs and his right arm, second degree burns and a permanently broken lower vertebra and tail bone, as well as Post Traumatic Stress Disorder (PTSD) and Traumatic Brain Injury (TBI).
Keynote speaker at the Helicopters for Heroes event is the highly decorated Navy SEAL combat veteran, Robert J. O'Neill. Deploying more than a dozen times, O'Neill held combat leadership roles in over 400 combat missions across four different theaters of war. He is most notably known as the soldier to have shot Osama bin Laden during the 2011 Operation Neptune Spear with Seal Team Six.
This January, Ruck celebrated what he calls his "12th Alive Day" since the IED exploded under his vehicle and changed his life forever. "Though it has been a number of years since the explosion, the support of Hanoi's Lost Child has made a significant difference in my life. I am humbled to have been chosen for this experience, and look forward to this helicopter ride, one intended to help me heal and be my best at my current mission, as loving father to my children."
There are multiple ways our community can Help Raise a Buck for Ruck:
Make a direct donation:

Paypal: pp.hlcf@hanoislostchild.com
Venmo: @hanoislostchild
Online via Dead Low Brewing
Purchase a raffle ticket to win a scenic helicopter tour for three (3) along the Ohio River. Dead Low Brewing and Brink Helicopters are raffling a Dinner and Beer Flight. The helicopter ride departs from Lunken Airport, circles over Dead Low Brewing, then flies along the scenic Ohio River to tour downtown Cincinnati, before flying back along the river. A Dead Low Brewing gift card is included to enjoy dinner and a beer before or after the flight. Purchase raffle tickets online now or visit the taproom. The raffle winner will be chosen randomly at the "Welcome Home, Heroes!" event being held at Dead Low Brewing on March 6, 2021 from noon-2 pm. The helicopter ride will be scheduled by the winner.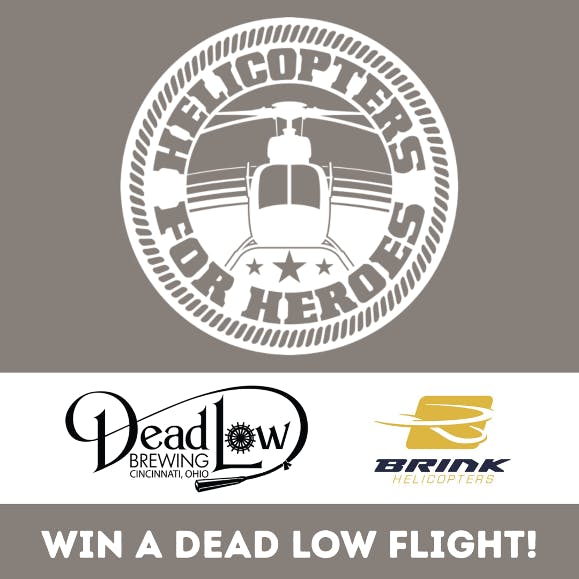 Attend the open-house style before- and after- events to meet Danny Ruck, Sergeant Mallott, and Hanoi's Lost Child's founder and event organizer, Ryan Wilson. Attend the "We Heart Veterans" event on Valentine's Day, February 14 from 3pm – 9pm, and the "Welcome Home, Heroes!" event on March 6 from noon – 2pm. Both events are being held at Dead Low Brewing. Direct donations can be made at the event and ten percent of the beer and food sales during the events will be donated as well.
>>>CLICK HERE to go back to the Brew Blog list>>>
Local Sponsors:
About Hanoi's Lost Child Foundation (HLCF): A Cincinnati non-profit dedicated to providing charitable relief and assistance to U.S. military veterans, their families, and charitable military organizations serving U.S. military veterans and their families. Wounded in body, or mind, or spirit, many soldiers return from service unable to return to the lives they knew. HLCF's purpose is to serve these deserving veterans in the Greater Cincinnati region to help them heal. HLCF raises funds through entertainment events and philanthropic community partnerships to provide direct one-on-one assistance for veterans in need, to thwart veteran suicide, and provide gravesite restoration for deceased veterans whose final resting places have become dilapidated with time. https://hanoislostchild.com/
About Helicopters for Heroes: A non-profit dedicated to honoring and supporting veterans and first responders, founded to educate our nation's youth to respect the importance and value of our Nation's veterans and their legacy of dedication, bravery and sacrifice. The organization raises money for the causes that help the men and women who have sacrificed so much. https://helicoptersforheroes.org/
About The Rosselot Financial Group (RFG): Providing financial advice for individuals and small businesses in Greater Cincinnati and nationwide including financial planning, insurance, goals-based investment advice, education funding, retirement account management, company-sponsored retirement plans, life view and career opportunities. To contact RFG, call (513) 232-6500 or email info@rosselotfinancial.com.
About Brink Helicopters: Serving Greater Cincinnati and surrounding areas with safety as its #1 priority, Brink offers many different ways to utilize aircraft to fit different community needs. Enjoy views you can't get from the ground for entertainment or professional purposes. For entertainment, groups can take local or regional tours, flights focused on photography, or partner with Dead Low Brewing for a 'Dinner & Beer Flight". Great for proposals, weddings, birthday parties or just to have a fun and unique experience. Let Brink drop in on your event for a golf ball/easter egg drop to raise money for charity. For professional needs, Brink offers utility patrols for powerlines and pipeline inspections, law enforcement assistance and searches, flight training, or wildlife surveys, and more. To contact Brink, call 513-206-4951 or email info@BrinkHelicopters.com.
About Dead Low Brewing: Dead Low Brewing is a craft brewery with a proper kitchen and outdoor beer garden in California, Cincinnati's easternmost neighborhood. Enjoy music and entertainment, host a business meeting, throw a private party, or simply stop in for a pint and a bite. The brewery offers craft beers, ciders and seltzers as well as wine and a full spirits bar. The award-winning Dead Low kitchen offers a delicious and broad menu to satisfy a wide variety of eaters. Everything is made fresh and in-house, including proprietary recipes that infuse Dead Low beer. The brewery is conveniently located off I-275 at the Ohio River and is walking distance from Riverbend Music Center, Coney Island, PNC Pavilion, Belterra Park, and the California Nature Preserve and Golf Course. To contact Dead Low, email hello@deadlow.com.