Preorder Crowlers Now: 1st Anniversary Beer! German Weisenbock with Cherries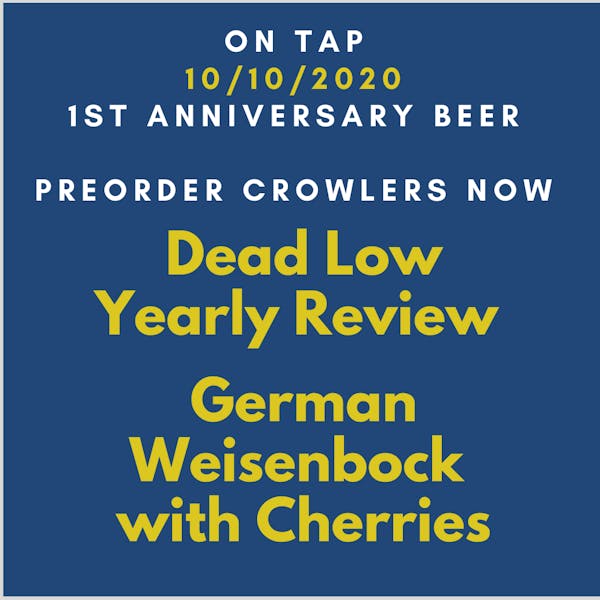 Preorder Crowler Cans of our 1st Anniversary Beer!
Yearly Review German Weisenbock with Cherries
8.5% ABV 16 IBU
On Saturday, October 10, 2020, we will celebrate our 1st anniversary!
To celebrate, we have a great day planned and we're launching Crowler Cans!
One year is an incredible milestone for our crew, our families and our community. We're super proud of what we've accomplished and super grateful for the incredible people who have taken the journey with us.
As we reflected on the past year — and what a year it was! — we decided that each year we should brew a special anniversary beer that spoke directly to the type of year we had.
2020 has been turbulent, and presented itself with both sweet and sour notes.
We opened to the public October 10, 2019 after four years of preparation. It was fantastic and 2019 looked like it was going to lead to an incredible 2020, and mostly, it has.
When we reflect on the significance of navigating Dead Low as part of our story, it has truly been fitting for this first year — we've faced uncharted and challenging waters the entire time. As a startup, who would have ever considered writing a pandemic and a global shutdown into their year one business plan?
Yet, in 2020, many sweet things have also occurred — we have built an incredible crew; we reopened and have been able to serve the community as the entertainment destination and meeting space we were designed to be; we've made friends with so many great community members; and the list of things we're proud of at one goes on. Really, we feel like we're just getting started!
So, in the spirit of the year 2020, that has presented itself with both sweet and sour notes, Grant brewed a German Weisenbock with Cherries.
It is relatively turbid or hazy and starts off boozy and with wheat notes, which then gives way to the sweet taste of cherries with a slight tartness at the end.
This is a traditional German wheat beer with a spicy ale yeast that provides a complex and boozy backdrop for over 37 pounds/barrel of sweet and tart red cherry puree. Oh the flavor!
German Weisenbock with Cherries, the perfect beer to drink as we think about the year behind, and look forward to the year ahead!
We can't wait to share a pint! Available 10/10/2020 at 10:20 am.
Click here to Preorders for 32 oz Crowler cans can be placed now online. Pickup anytime beginning 10/10/2020.